The GIAJ Chairman's Statement (Translation)
Dec. 20, 2018
 Nearly six months have passed since I assumed office as Chairman of the GIAJ in June. I would like to report on our activities and related events over this period.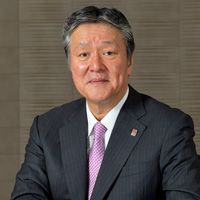 1. Introduction
 As represented by the kanji of the year "Sai / Wazawai", meaning "disaster" or "misfortune", the entire nation has been struck by repeated natural disasters. As such, public awareness towards disaster prevention and reduction has been highlighted more than ever this year. Nationwide efforts toward recovery and reconstruction are underway as highlighted by a unanimous vote in the Upper House plenary session of the Diet on November 7th to pass the first supplementary budget totaling 935.6 billion yen in order to cover the necessary reconstruction expenses. As for the general insurance industry, we paid earthquake insurance claims totaling 137.1 billion yen for The Northern Osaka Earthquake and The 2018 Hokkaido Eastern Iburi Earthquake (as of December 11th, 2018). We also paid insurance claims totaling 1 trillion,175.7 billion yen(including estimates)for The Heavy Rain Event in July 2018, and for Typhoons No. 21 (Jebi) and No. 24 (Trami), as of December 11th, 2018. We are committed to making swift claim payments to serve all those affected. We wish everyone in the affected areas a safe and speedy recovery.

 Despite the IMF World Economic Outlook and the Economic Growth Outlook, released by the Japanese government, making downward adjustments that reflect concerns about the intensification of trade friction, both the world economy and domestic economy are currently predicted to continue to achieve moderate growth. Whilst political and geopolitical challenges loom in various parts of the world, changes in the expansionary trends of the world economy, which have continued since the financial crisis, are starting to be recognized. Being aware of such potential trend shifts, every industry and corporation must be ready to change and advance its initiatives towards sustainable growth.
2. Our key activities so far
(1) Contribution to achieve SDGs
(i) Overall direction of our initiatives including the revision of our Code of Conduct
 Today, at our Board of Directors Meeting, the GIAJ revised its Code of Conduct. The Code of Conduct sets out the general principles and practical guidelines which member companies and their executives and employees are expected to uphold. These revisions clarify the items which we will pursue in order to fulfill our social missions, respond to confidence in and expectations of us by society. By taking into account social issues such as the aging population, the increase in natural disasters, and emerging risks including terrorism and cyber risks, the revisions also aim to promote sound development and improve reliability of the general insurance business.

 We have launched a special webpage dedicated to SDGs (Sustainable Development Goals) on our website. It highlights our activities and how they relate to the 17 SDGs. We will also cohost the "SDGs Forum" on January 23rd with the Life Insurance Association of Japan. By considering how best to leverage the characteristics of general insurance, we will continue our discussions on developing concrete initiatives to achieve SDGs which can be pursued not only by our Association, but also by the industry as a whole.
(ii) Responding to natural disasters
a. Enhancing the pre-event catastrophe loss reserve system
 In our tax reform request to the government, we called for enhancement of the existing pre-event catastrophe loss reserve system, which concerns fire and other types of insurance, as a priority issue. In response to our request, the package of fiscal 2019 tax revisions, which was released on December 14th, includes measures which allow raising the accumulation rate of catastrophe loss reserves to six percent (from the current five).
b. Disaster prevention and reduction
 On October 13th and 14th, the "National Conference for Promoting Disaster Risk Reduction (Bosai-Kokutai) 2018" and the "Tokyo Disaster Prevention Exhibition (Bosaiten) 2018" were held. Both events gathered together related associations and agencies from both the public and the private sectors. Taking advantage of this opportunity, our association held a panel discussion and performed a play which highlighted the possibility of a Tokyo Inland Earthquake. These educational opportunities on disaster prevention helped promote the concept of earthquake insurance as a self-help tool. In addition, on November 17th, we co-hosted a symposium on disaster recovery jointly with the Japan Society for Disaster Recovery and Revitalization, and, on December 15th, we took part in a special TV program which emphasized the importance of being prepared for large-scale earthquakes.

 Through our 11 branch offices nationwide, the GIAJ holds seminars that aim to raise awareness about earthquake insurance among insurance agents in various areas.
c. "Exploration for Disaster Prevention"
 Since 2004, our Association has been promoting an "Exploration for Disaster Prevention" activity, which is a practical educational safety program designed to heighten children's awareness of disaster prevention. In October, we were honored to accept the 'HIROI Prize' from the Japan Society for Disaster Information Studies in recognition of this activity's outstanding usefulness as a practical disaster prevention educational tool and its contribution to making communities more resilient to disasters. On January 26th, we will hold an awards ceremony for the winners of our annual 'Exploration for Disaster Prevention' map-making competition. The competition marks its 15th anniversary this year. The total number of maps submitted has reached about 27,000, and the total number of participants in the competition has now surpassed 185,000. In fact, there have been cases where suggestions and recommendations by children have lead to improvements to dangerous sites in communities. We will continue to contribute to help build a worry-free, safe society by promoting these activities.
d. Donation of small fire engines and high-standard ambulance cars
 In order to contribute to the strengthening of regional fire-fighting capabilities and the upgrading of regional emergency medical systems, our Association has been donating small fire engines and high-standard ambulance cars around the nation. This year, we have added "fire bikes" which can be utilized in urban areas with severe traffic congestion, and in mountainous areas where it is difficult for fire engines to enter. We donated 19 cars/bikes this November, which brings the total number of vehicles donated to 5,108.
(2) Contribution to the realization of "Society 5.0"
(i) Response to emerging risks such as enhancement of cybersecurity
 Enhanced cybersecurity is vital to the realization of "Society 5.0". Our association conducted a survey of domestic corporations with the aim of obtaining an overall picture of their responses to cyber risks and awareness of cyber insurance. Based on the results of the survey, we will undertake measures to enhance corporate cyber security and to strengthen the capabilities of the general insurance industry.
(ii) Measures on harmonization and standardization utilizing new technologies
 To improve customer convenience and enhance the operational efficiency of insurance agents and insurers, our association conducted a basic study on the utilization of new technologies and carefully considered whether they can be applied to harmonize and standardize various processes in the insurance business. This year, we will determine the viability of different ideas and continue our discussions on their implementation.
(3) Other issues
(i) Proper responses to international standards
 As development of the international supervisory and regulatory standards for Global Systemically Important Insurers (G-SIIs) and Internationally Active Insurance Groups (IAIGs) is reaching a major milestone, on October 30th our association submitted comments to the IAIS on the latest draft supervisory material, which covers governance, risk management and risk-based capital standards. In addition to technical advice, our comments stressed that international standards should be developed and implemented in a globally consistent manner. We will continue our active and constructive engagement in the process of international standards development and contribute to the sound development of general insurance markets globally.
(ii) Strengthening support activities to assist emerging markets
 We are always looking into ways to better promote and support the development of sound general insurance markets in Asia. On November 27th, our association concluded a cooperation memorandum with the ASEAN Insurance Council (AIC). Conclusion of the memorandum enables our association to take a more active part in AIC discussions. We will advance various initiatives to deepen our exchanges of people and information towards further development of both the Japanese and ASEAN general insurance markets.
3. Conclusion
 As we head towards the close of the "Heisei" Era, we are witnessing a world confronted by political and geopolitical risks, increased uncertainty, such as the aging population, and an increase in natural disasters. Expectations on the general insurance industry in supporting both society and the economy of Japan as an integral part of the nation's social infrastructure are ever increasing.

 Our Association will continue to implement a wide spectrum of initiatives aimed at improving and strengthening the capabilities of the general insurance industry to contribute to the development of a securer and safer society, and to the sustainable growth of the country's future economy.

 We would highly appreciate your continued support and cooperation.
(end)