The GIAJ Chairman's Statement (Translation)
Mar. 22, 2019
 Nearly nine months have passed since I assumed office as Chairman of the General Insurance Association of Japan (GIAJ) in June 2018. I would like to report on our activities and related events over this period.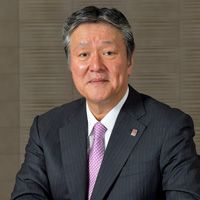 1. Introduction
 As we head towards the close of the "Heisei" Era and look back over its 3 decades, we recognize that the business environment surrounding the general insurance industry has totally changed. It has been marked by factors such as deregulation and business liberalization, mergers and acquisitions, expansion of business areas, globalization, changes in industry structures and consumer behaviors, and among others, digitalization.

 During the past thirty years, Japan has been struck by numerous natural disasters including the volcanic eruption of Mt. Unzen, The Great Hanshin-Awaji Earthquake, The Niigata-ken Chuetsu Earthquake, The Great East Japan Earthquake, The 2016 Kumamoto Earthquake and numerous other earthquakes, plus the typhoons/heavy rains which hit Japan hard last year. Through making swift claim payments, the general insurance industry did its utmost to help victims put their lives back in order and to assist the affected areas in their recovery and reconstruction.

 In tandem with the risk of natural disasters hitting our land becoming ever higher, people's expectations of the general insurance industry to contribute to the realization of a sustainable society through advancing risk management and pursuing risk prevention and mitigation are becoming ever greater.

 Based on solid intelligence regarding risks and supported by our determination and pride in being part of the general insurance industry, the GIAJ will continue to respond appropriately to various societal changes. By providing coverage and services that contribute to building a safer, more secure society, we are committed to helping our industry fulfill its role of supporting Japan as an integral part of the nation's social infrastructure.
2. Our key activities so far
(1) Contributing to the realization of a sustainable society (achieving SDGs)
(i) SDGs Forum
 The GIAJ and the Life Insurance Association of Japan cohosted the "SDGs Forum" on January 23rd. About 440 people participated in the forum and we reaffirmed the roles to be undertaken by the industry to achieve SDGs. Taking advantage of the characteristics of our business that deals with risks, the general insurance industry has undertaken various activities which help achieve SDGs. Based on discussions held at the forum, we will further enhance our activities by advancing partnerships beyond our industry.
(ii) Responding to natural disasters
a. 'Exploration for Disaster Prevention'
 The GIAJ held an awards ceremony for the winners of our annual 'Exploration for Disaster Prevention' map-making competition with about 175 people including children and educational professionals participating. As the competition marks its 15th anniversary this year, we published a commemorative magazine and showed a video to reflect on our activities over the past 15 years. We also delivered a message to further enhance disaster prevention activities in the future.

 The total number of participants who have taken part in the competition since its first year has surpassed 185,000. By ongoing promotion of these activities, we will continue to contribute to building worry-free, safe communities.

b. Disaster prevention initiatives
 On March 2nd and 3rd, the GIAJ participated in the "Outdoor Festival", an outdoor exposition event held in Osaka Expo Commemoration Park. The GIAJ set up a booth with experience-oriented disaster prevention learning attractions, panel displays and video streams which are intended to help consumers understand the importance of natural disaster preparedness and earthquake insurance. On February 9th, we took part in a special TV program on natural disaster prevention. In closer cooperation with the Meteorological Agency and municipalities nationwide, we will continue to contribute to increasing the level of disaster prevention knowledge among residents, taking local characteristics into account.
(2) Contribution to the realization of "Society 5.0"
(i) Measures to address advances in self-driving technology
 Further enhancement of the social receptivity of autonomous vehicles is required. As such, the GIAJ has been conducting awareness-raising activities in cooperation with the Independent Insurance Agents of Japan Inc., by utilizing a webpage dedicated to autonomous driving on our website. In addition, the GIAJ is continuing to study how the cause of accidents involving self-driving cars should be analyzed and how in-vehicle data should be utilized. Furthermore, the GIAJ is making requests and recommendations through public consultations and participating in dialogues with the relevant Ministries and organizations. The GIAJ will continue to contribute to the realization of a worry-free, safe, autonomous-vehicle-using society by engaging in dialogues with relevant parties, and discussing and making recommendations on effective measures.
(ii) Response to emerging risks and enhancement of cybersecurity
 Between December 2018 and January 2019, the GIAJ conducted a survey of domestic corporations with the aim of obtaining an overview of their responses to cyber risks and awareness of cyber insurance. The results of the survey, published by the GIAJ on March 11th, show that more than 60% of the respondents fail to recognize that they may become cyber attack targets. In particular, smaller companies tend to be less aware of cyber risks and behind in their preparedness. The GIAJ will utilize the results and undertake measures to enhance corporate cyber security.
(iii) Measures on harmonization, standardization and enhancement of the operational efficiency of our industry
 The GIAJ is continuing to broadly study ways of utilizing new technologies to improve customer convenience and to enhance the operational efficiency of insurance agents and insurers. Based on effectiveness analysis and the viability of various possible measures, we have been able to identify priority areas, and will continue our discussions on introducing appropriate tools.
(3) Other issues
(i) Auto theft prevention measures
 On February 7th, the National Police Agency reported that the number of known vehicle thefts in 2018 was 8,628, which is the first time the figure has fallen below 10,000 in 59 years. The GIAJ has been actively engaging in automobile theft prevention activities including participating in the "Private-Public Joint Project Team on the Prevention of Automobile Theft", which is composed of four Ministries including the National Police Agency and 19 private-sector groups. As secretariat of the private-sector, we will continue to proactively work on automobile theft prevention activities.
(ii) Proper responses to international standards
 The GIAJ submitted its comments to the IAIS on the "Application Paper on Recovery Planning" and the "Holistic Framework for Systemic Risk in the Insurance Sector" consultations on December 27th and on January 24th, respectively. In its comments, the GIAJ stressed that while we support proportionality, the level playing field should not be undermined and that any excessive burden on insurers should be avoided. We will continue our active and constructive engagement in the process of international standards development and contribute to the sound development of general insurance markets globally.
(iii) Strengthening support activities to assist emerging markets
 As part of our activities to better promote and support the development of general insurance markets in Asia, the GIAJ held a seminar on January 24th in Tokyo regarding insurance distribution and training systems for insurance solicitors. Representatives from the Ministry of Planning and Finance, Myanmar, participated in the seminar. On March 4th and 5th, the GIAJ participated in the "OECD-ADBI-FRD of MoPF Roundtable on Insurance and Retirement Saving in Asia" in Naypyidaw, Myanmar. A GIAJ member company gave a presentation on the need to increase the sophistication of risk management within insurance companies, taking into account recent experiences of natural disasters in Japan. Also, the GIAJ held a seminar on automobile insurance claims handling in Ulaanbaatar, Mongolia based on the Memorandum of Understanding signed between the GIAJ and the Mongolian Insurers Association. The GIAJ will continue to utilize various occasions to continue to contribute to the further development of general insurance markets in Asia.
3. Conclusion
 Whilst uncertainty over global economic prospects is rising, digitalization is changing the fundamental structure of the industry. As a result, the environments surrounding individuals and corporations are also expected to go through dramatic changes. Since last April, the GIAJ has steadily been implementing its Eighth Mid-Term Business Plan with particular focus on contributing to the realization of SDGs and "Society 5.0". We will continue to contribute to the realization of a worry-free, safe and sustainable future for Japan by properly responding to new types of risks which arise as a result of these very changes.

 We would highly appreciate your continued support and cooperation.

(end)