The GIAJ Chairman's Statement (Translation)
Sep. 19, 2019
 Nearly three months have passed since I assumed office as Chairman of the General Insurance Association of Japan (GIAJ) in late June. I would like to report on our activities over this period.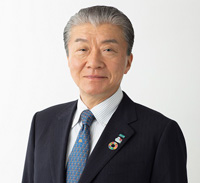 Introduction
 In the current fiscal year, natural disasters such as typhoons and earthquakes continue to cause major damage nationwide. In particular, Typhoon No. 15 (Faxai), the strongest typhoon on record to have ever hit the Kanto region has had a major impact on citizens' daily lives, causing heavy physical damage, power outages, water outages, and disruption of public transportation. I wish to extend my sincerest condolences to the victims, my sympathies to the bereaved families and to all those who have been affected by this series of natural disasters. In addition to responding sincerely to consultation requests by customers affected by these disasters, the general insurance industry will continue to focus on providing prompt and proper claim payments to victims.
Our Key activities so far
1. Responses to natural disasters
 Diverse natural disasters, such as frequent floods from localized torrential rains, typhoons and earthquakes continue to occur nationwide. For this reason, we are working on the following (1) to (3) initiatives to accelerate disaster prevention and reduction activities appropriate to each region in preparation for future large-scale natural disasters.
(1) Natural disaster risk education
 We continue to be engaged in awareness-raising activities nationwide. In particular, we have held disaster prevention events in Okayama Prefecture, where major flood damage occurred, and in Hokkaido, where an earthquake with an intensity of 7 on the Japanese scale occurred for the first time in recorded history last year. Through these events, we raised awareness of the importance of self-help, mutual assistance, and public assistance in dealing with large-scale disasters. In order to hold disaster prevention events in different parts of the nation to improve disaster prevention capabilities at the regional level, we will continue to promote cooperation between GIAJ regional branches and the municipalities as well as the meteorological observatories nationwide.
(2) Disaster prevention preparations for children
 "Exploration for Disaster Prevention" is a practical educational program that aims to improve safety awareness for elementary school students. To date, some 12,689 children from 438 groups such as elementary schools and children's associations nationwide have participated in the program and 2,274 works have been submitted. We will continue to encourage all concerned parties to have more children participate in the program by the November 6th application closing date.

 On August 8th, we renewed "Our Safety Sheet" leaflets from which children can learn how to protect themselves from disasters as part of their daily preparations at home and school. In addition to revising the existing "Fire edition" and "Earthquake edition", a new "Heavy Rain/Typhoon edition" has been added to the series. We will continue to work on improving children's knowledge of disaster prevention by using this educational material at disaster prevention events, which are held in cooperation with municipalities and other parties.
(3) Promoting earthquake insurance
 We are working on improving market penetration of earthquake insurance throughout the country in preparation for the large-scale earthquakes that is expected to occur in the future. According to fiscal 2018 data, the earthquake insurance attachment rate (the ratio of earthquake insurance endorsements attached to fire insurance policies) was on average 65.2% nationally, a year-on-year increase of 2.2%. We will continue to promote dissemination efforts especially in prefectures with low attachment rate. In addition, we started a new earthquake insurance promotional campaign on August 26th. This fiscal year, we will strongly advocate the necessity of protection against earthquake risks and reaffirm the need for earthquake insurance with the catch phrase, "Make the new era an era to seriously prepare for earthquakes".
2. Responses to senior citizens and foreign nationals
 In order to prevent accidents involving senior citizens, we are taking the following initiatives (1) to (3). Also, in response to the increasing numbers of foreign tourists and foreign residents in Japan, which reflects the internationalization of the country, initiative (4) is being implemented.
(1) Prevention of traffic accidents involving senior pedestrians
 In order to help protect senior pedestrians nationwide from traffic accidents at dusk and at night, the "Pikachu Reflective Wristband" was created for senior citizens to wear together with their grandchildren. We also held traffic accident prevention seminars, which senior citizens and their families could attend, in cooperation with the relevant municipalities and local police departments in Shizuoka Prefecture, Sapporo City and Tokyo. We will continue to work towards traffic accident prevention by holding seminars nationwide.
(2) Prevention of traffic accidents involving senior drivers
 Accidents involving senior drivers are continuing to increase. In Tokyo and Ishikawa Prefecture, we conducted awareness raising activities using an educational flyer that is based on the accident situations in which senior drivers are often involved. We also held "Safety Support Car" test-drive events in these areas. We will continue to hold events for senior drivers to raise their safe-driving awareness and help them to acquire advanced technology knowledge.
(3) Responses to traffic accident prevention at intersections
 In order to reduce and help prevent traffic accidents at intersections and the surrounding areas, we have updated our "Introduction to Traffic-Accident-Prone Intersections" webpage map in cooperation with the Federation of Local Newspapers and the National Police Agency. It now provides the latest information to help contribute to the prevention of accidents involving senior citizens and will be used for preventing accidents in all parts of the country.
(4) Response to the increasing number of foreign nationals
 In response to the advancing internationalization of Japan, especially the increasing numbers of foreign tourists coming in, "Information on Staying Safe in Japan" was released on our website on September 6th. Its purpose is to create an environment where foreign tourists and foreign residents in Japan can stay safe and secure in times of disaster. This website is compatible with smartphones and can be accessed in five languages. Also, it is a web-based "curation site" that unifies various useful information for non-Japanese nationals when they encounter disasters or accidents.

 In order to encourage more people to use this website, we provided leaflets with QR codes to approximately 16,000 accommodation facilities nationwide in cooperation with the All Japan Ryokan Hotel Association. In addition, we distributed "paper fans" and business card-sized information cards produced in collaboration with the All Japan Ryokan Hotel Association for accommodation facilities (208 facilities) in 12 prefectures where the Rugby World Cup matches are to be held. We will continue to focus on efforts that contribute to the safety and security of foreign nationals in the event of disasters.
3. Other Issues
(1) Responses to cyber risks
 On July 31st, a leaflet entitled "Cyber Insurance Story" was released with the aim of deepening awareness of the reality of cyber risks and the effectiveness of cyber insurance. The leaflet shows that one in seven domestic companies is under cyberattack, and offers possible countermeasures and information on cyber insurance handling companies, etc. In addition, the "special webpage for cyber Insurance" provided on our website was renewed with various content such as the impact of cyberattacks on companies. In the future, we will work to raise greater awareness of cyber risks and promote cyber insurance in cooperation with relevant municipalities, local police departments and chambers of commerce, etc.
(2) Enhancing the pre-event catastrophe loss reserve system
 At our board meeting on July 25th, a resolution was made on "the fiscal 2020 tax revision request package". This fiscal year, we are focusing on 8 items that are considered essential, such as further enhancement of the catastrophe loss reserve system related to fire insurance in preparation for frequent natural disasters. We will promote the realization of our request with the various parties concerned.
(3) Responses to international standards
 The GIAJ submitted to the International Association of Insurance Supervisors (IAIS) its comments on the consultations of the Insurance Core Principles (ICPs) and the Common Framework for the Supervision of Internationally Active Insurance Groups (ComFrame). The GIAJ submitted its opinions on August 14th from the viewpoint of ensuring fair competition conditions and avoiding excessive restrictions. These international standards are scheduled to be adopted in November this year, following which we will provide timely and appropriate opinions in consideration of the anticipated development of domestic rules in Japan.
(4) Activities to enhance the general insurance markets of Asia
 We hosted the Insurance School (Non-Life) of Japan (ISJ) Overseas Seminar in Thailand (Bangkok) on September 10th and 11th. The ISJ has been held in various regions every year since 1993 for the purpose of contributing to the sound development of general insurance markets in Asia. This fiscal year, we provided lectures on the necessity and usefulness of "Providing Better Services in a Reliable and Sustainable manner". We will continue to provide technical assistance to the general insurance industries in other countries and regions, mainly in Asia.
Conclusion
 Over the approximately three months since I took office, we have been working on the two priority issues set in fiscal 2019: "Responses to natural disasters" and "Responses to senior citizens and foreign nationals".

 Having attended events in Okayama and Hokkaido, I feel that disaster prevention awareness in each region has improved. Also, I re-recognized the importance of combining self-help, mutual assistance and public assistance and working towards appropriate disaster prevention and mitigation efforts in each region. Furthermore, as we hear about the reality on the ground from relevant municipalities, media representatives and various other parties, senior citizens themselves, especially those in rural areas, have to be able to drive cars as it is their only "means of transportation" for their everyday lives. I strongly feel the necessity of taking measures to help prevent senior drivers being involved in traffic accidents.

 On the other hand, inauguration of the Rugby World Cup 2019 is just a day away, and the Tokyo Olympic and Paralympic Games is less than a year away. We need to work hard and with a sense of urgency to respond to the rapid progression of the internationalization of Japan.

 The two priority issues set at the time of my taking office as chairman of GIAJ are important matters that should be given top priority for the sake of society and the Japanese economy. We are even more convinced that the contribution of the general insurance industry is absolutely essential.

 As mentioned above, the initiatives that we have put in place to deal with each issue are progressing as scheduled. The GIAJ will also contribute to realizing a "safe, secure and sustainable society" while "stabilizing and improving the economy, and people's lives" through steadily promoting and working on the two priority issues.

 We would highly appreciate your continued support and cooperation.
(end)