The GIAJ Chairman's Statement (Translation)
Mar. 19, 2020
 I would like to make some comments and report on our activities since my last press briefing in December 2019.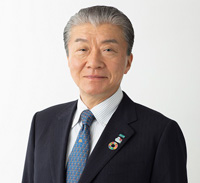 Introduction
 Due to the spread of the new Coronavirus Disease (COVID-19), the current outlook for Japanese society and the country's economy is unpredictable.

 The virus, which appeared in China last December, has spread to countries and regions around the world, and on March 11 the World Health Organization (WHO) declared it a "pandemic". While it seems to be showing signs of calming down in China, European countries such as Italy, and others such as Iran and South Korea are continuing to see large-scale increases in the number of new infections. Each country is working hard to contain the spread of the virus, but it remains uncertain as to when the situation will improve.

 In tandem with the global spread of the virus, Japan is seeing increasing numbers of infections as well. Consumption and production have stagnated and various industries such as tourism have been hit hard, and public dissatisfaction is growing. Both the national government and local governments are facing the challenge of preventing the spread of the disease while maintaining economic activity. Containment measures such as the declaration of an emergency in the northern island of Hokkaido, the simultaneous closure of schools at all three levels nationwide, and the suspension and postponement of large-scale events have been taken, but this may not be sufficient. National efforts are still needed.

 Member companies will focus on providing prompt and reliable claim payments in case policyholders with appropriate coverage to Coronavirus Disease 2019 (COVID-19) suffer health damage. In addition, from the perspective of preventing further spread of the infection and protecting policyholders, we will grant a moratorium on the continuation of insurance contracts and on payments of insurance premiums for contract renewals. Even if the infection spreads further, we will strive to build the necessary systems to maintain underwriting and claim payment operations for products such as motor insurance and fire insurance, and make every possible effort to fulfill our mission as part of Japan's social infrastructure.

 We have established a Coronavirus Disease 2019 (COVID-19) Central Command and have been providing information to all member companies. We have also implemented an extension to the certification deadline for general insurance solicitors.

Our key activities so far
1. Responses to natural disasters
(1) Responses to natural disaster risks
 In order to strengthen our responses to the natural disasters that have become commonplace in recent years, the Association, within its Natural Disaster Response Study Project Team, has been studying various common issues among the member companies related to natural disasters, such as joint efforts on insurance payments for storm and flood damage. Currently, we are discussing and prioritizing the issues to be considered, collected from our member companies.

 Moreover, based on the normalization of natural disasters, we recognize that it is necessary for our member companies to take an innovative approach with the product in order to provide sustainable and stable compensation.

(2) Education for children regarding disaster prevention
 On January 25th, we held the 16th awards ceremony for the winners of our annual "Exploration for Disaster Prevention map-making competition". The 144 participants included the winners of the competition and educational professionals. At the award ceremony, we looked back at the efforts of the more than 200,000 children who have participated so far in the competition. As a new approach for the future, we also introduced the "Exploration for Disaster Prevention" app, which is to be used with tablets. We also explained about the requests and recommendations made to the administration leaders about the best practices to improve their towns using the maps, as well as the method on using "pre-learning tools" which are necessary before walking around the town. We will continue to strive to raise children's awareness of disaster prevention as well as the disaster prevention knowledge of all residents.
(3) Promoting earthquake insurance
 In order to prepare for future large-scale earthquakes, we are working to improve market penetration of earthquake insurance and promote consumer understanding of earthquake risks. In December 2019 and January 2020, we broadcasted a special TV program to explain what might happen in the event of a Nankai Trough earthquake with the title: "A large-scale earthquake hits - How to protect your life and living". It was viewed by an estimated 380,000 households. Moreover, we are working on publishing advertisements in magazines and newspapers, distributing promotional videos and broadcasting other TV programs, etc. We will continue to work on awareness-raising of earthquake risks and call for the necessity of having earthquake insurance.
2.Responses to senior citizens and foreign nationals
(1) Responses to senior citizens
 In order to help the elderly move around safely and securely, we are working on the promotion of safe driving measures for senior drivers and on ways to prevent accidents nationwide. On February 16th, we held the "Senior Traffic Accident Prevention Symposium" with the cooperation of Kagawa University, Kagawa Prefecture, Kagawa Prefectural Police, Takamatsu City, the Ministry of Land, Infrastructure, Transport and Tourism Shikoku Regional Development Bureau, etc. In addition to a "Safety Support Car" (Sapo Car) test-driving event, lectures by experts and panel discussions provided opinions from the perspectives of industry, government, academia and the private sector. We will continue to work on awareness raising activities based on the situation in each area in cooperation with the police, the related ministries, local governments, and universities, etc.
(2) Responses to foreign nationals
 We operate a "curation site" that unifies various information for foreigners, which they may find useful if a disaster or accident occurs while they are in Japan. As of January, this year, we have been partnering with a website for foreign visitors and foreign residents which provides attractive information about Japan to make the site more widely known. So far, the site has been accessed by people from 54 countries and regions.

 Regarding the new coronavirus, we are promoting the Japan Visitor Hotline for Coronavirus Disease 2019 (COVID-19) for foreigners, which is operated by the Japan National Tourism Organization.


 We are calling on foreign residents to refrain from using smartphones whilst driving or walking by providing "Traffic Accident Prevention Awareness leaflets", which were released in December 2019 and had been provided to police headquarters nationwide. We will continue to conduct educational activities so that foreign visitors to Japan and foreign residents can live safely here.

3. Other Issues
(1) Responses to self-driving technology
 As part of the inevitable move towards the social implementation of self-driving cars, we are conducting research and investigating the causes of accidents and the state of data recording devices. We have made requests and recommendations regarding the information recorded by such devices within the public consultation conducted by the Ministry of Land, Infrastructure, Transport and Tourism on the development of safety standards for automatic driving devices. We are also engaged in ongoing exchanges of opinions with relevant ministries and organizations.

 We will continue to contribute to the realization of a safe and secure autonomous driving society by studying and expressing effective measures against issues within the legal system and various rules. In addition, we have recently posted a leaflet on "unintended starting out prevention device" on a page dedicated to providing information on autonomous driving on our website. We will continue to engage in educational activities such as promoting understanding of the safe driving support system.

(2) Responses to cyber risks
 As the Tokyo Olympic and Paralympic Games near, urgent measures are required for concerns about the rapid increase in cyber-attacks on domestic companies. In order to further analyze the results of a survey that was conducted on the cyber security measures taken by companies in fiscal 2018, we conducted a survey on cyber risk awareness for managers of small and medium-sized enterprises. According to the results of the questionnaire, 24% of SMEs do not have countermeasures in place against cyber-attacks. The reason for this is that half of all the SME business owners surveyed are unable to imagine being hit by a cyber-attack. Based on the results of this survey, we will make efforts to strengthen cyber security measures for SMEs, which will be centered around the "special webpage on cyber insurance" published on our webpage.
(3) Support activities utilizing profits from managing Compulsory Automobile Liability Insurance (CALI) premiums
 We use the profits from general insurance companies' CALI business to both help prevent automobile accidents and to support victims when automobile accidents do occur. In fiscal 2020, taking into account recent environmental changes, a total of 1,875.73 million yen was donated to 42 businesses that contribute to reducing the number of accidents involving senior citizens, as well as those that focus on measures against brain trauma and spinal cord injury, which are often caused by traffic accidents.
(4) Responses to international standards
 The GIAJ has been petitioning the National Association of Insurance Commissioners (NAIC) to eliminate the collateral requirements of non-US reinsurers when they accept reinsurance from the US. As a result, the NAIC's Reinsurance Model Law was amended last June. In January, Japan was identified as a jurisdiction which is subject to collateral exemption, along with the EU, the UK, Switzerland and Bermuda. As a result, insurers located in Japan are exempt from reinsurance collateral if they meet certain criteria.
(5) Activities regarding the general insurance markets of Asia
 The GIAJ continues to promote various support measures to help ensure the development of sound general insurance markets in Asia. As part of the activity, we have been working on support towards the general insurance market of Myanmar. Most recently, we held a seminar there on February 10-13 on the role of reinsurance. Representatives from the Ministry of Planning, Finance and Industry, Financial Regulatory Department and the Myanmar Insurance Association participated in the seminar. We will continue to support the general insurance industry of each countries/regions of Asia, according to the situation of each country.
5.Conclusion
 As mentioned in the beginning, the ongoing fight against the Coronavirus Disease 2019 (COVID-19) remains unpredictable. However, given Japan's long history of overcoming difficulties, I am convinced that if we work together as a whole, and each field fulfills its responsibilities and collects wisdom, we will overcome this difficult situation. Through its various initiatives the GIAJ will fulfill its mission within the field of general insurance.

 We pray for an early end to the current situation so that everyone in Japan and around the world can be free from the anxiety of Coronavirus Disease 2019 (COVID-19) and return to living peaceful lives.

 There are only three months left until my term of office as Chairman of the GIAJ ends. We will steadily work towards completing the Eighth Mid-Term Business Plan and the two priority issues, "Responses to Natural Disasters" and "Responses to Senior Citizens and Foreign Nationals", which we set out to achieve when I was appointed.

 The Tokyo Olympic and Paralympic Games are close to being held. We will work together in our industry to contribute to the great success of the Games and to share our dreams and hopes with people around the world.

 We would highly appreciate your continued support and cooperation.

(end)