The GIAJ Chairman's Statement (Translation)
Dec. 17, 2020
Nearly six months have passed since I assumed office as Chairman of GIAJ. I would like to report and comment regarding our activities over the past six months.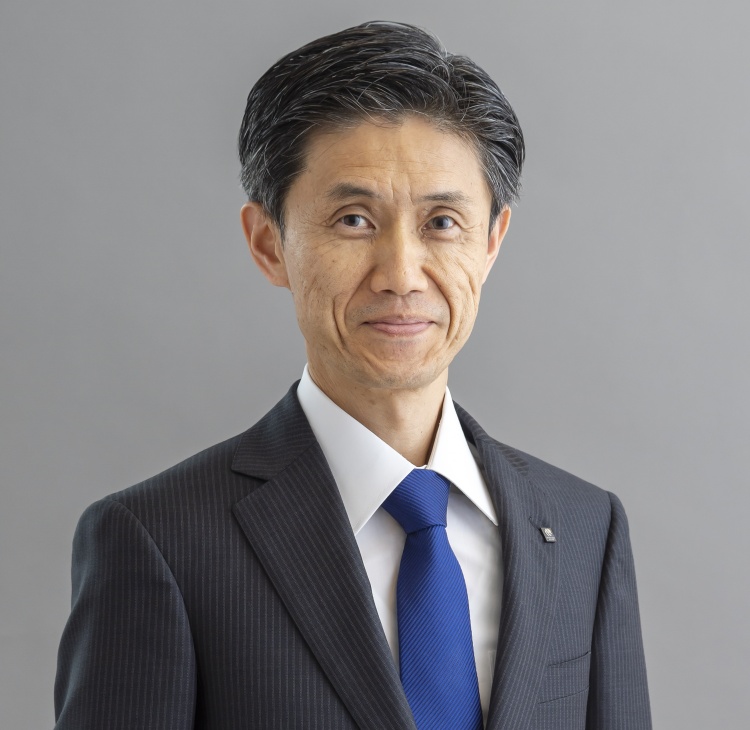 1. Introductory remarks
While the number of Covid-19 cases is increasing once again especially in Europe and the United States, infections are also spreading widely in Japan, and strict measures need to be put in place again to prevent the spread of infection. Life under the constant threat of Covid-19 has had a major impact on people's livelihoods and corporate activities.

Even in these circumstances, our member companies continue to provide necessary products and services to customers in line with GIAJ's "Basic Policy for Covid-19 Control". GIAJ recently updated the Policy to include situations where infection risks increase etc. in order to prevent further spread of infection and requested member companies to enforce preventive measures on December 15.

Regarding development of products that address Covid-19, I understand that our member companies are listening closely to customer needs and are avidly reviewing coverage of existing products. With regard to binding contracts and claims payments, many member companies have been expanding non-face-to-face procedures such as online services to prevent the spread of infection.

Regarding insurance claims payments for natural disasters which have become increasingly severe and frequent in recent years, it is important to meet customers' expectations by making appropriate and prompt claims payments even when infections are spreading. This year, heavy rains and typhoons caused severe damage in Japan, especially in the Kyushu region. Our member companies are establishing non-face-to-face business processes through the utilization of various systems such as the internet for receiving claims, providing progress reports and making claims payments.

The Japanese government has set out plans to review existing practices of written documents, seals and face-to-face procedures. This is in line with GIAJ's work on "Promoting standardization of operations" so we will respond proactively and cooperate with the relevant authorities.

The general insurance industry will continue to creatively respond to the newly identified issues and changes with flexibility and agility.
2. Key initiatives for this fiscal year
(1) Strengthening responses to natural disasters
In response to the increasing frequency and severity of natural disasters, GIAJ is taking steps to fulfill the social role expected of Japan's general insurance industry.
Response to wind and flood damage
GIAJ, mainly through its Natural Disaster Response Review Project Team, has been working on the following initiatives:

① In order to quickly assess the extent of disaster and make prompt claims payments in the event of large-scale flood damage, we are currently considering a new scheme that will utilize the latest technology. For example, we have partnered with JAXA (Japan Aerospace Exploration Agency) and will start a demo trial of a newly created industry-wide scheme in which GIAJ provides satellite images to member companies. We will continue research and practical use of digital images, as well as considering how to partner with digital image analysis vendors in order to add functions to provide our member companies with further information enabling claims payments.

② To prevent the occurrence of disasters caused by flooding and overflowing of rivers, it is important for all relevant parties to cooperate and take a "river basin management" approach. GIAJ invited lecturers from the Ministry of Land, Infrastructure, Transport and Tourism (MLIT) to hold a session for our member companies to explain the report on "Approaches to flood disaster countermeasures considering climate change" which was published by MLIT in July. We are also promoting the use of hazard maps in cooperation with relevant authorities, local governments, and the Independent Insurance Agents of Japan, so that citizens understand the hazard information and take necessary actions to protect their lives and property from disasters. Additionally, it is important to prevent damage to roofs in the event of a typhoon. A widespread disaster causing delays in roof repairs will increase losses such as household effects and greatly affect daily life. We will continue to share information with the relevant authorities to mitigate roof damage in the event of wind disasters.

③ Japan will continue to face large-scale natural disasters; therefore, it is extremely important to improve member companies' ability to pay insurance claims. Catastrophe loss reserves play an indispensable role in maintaining and ensuring the general insurance industry's financial soundness, and the application of special accumulation rate under the "Act on Special Measures Concerning Taxation for Fire Insurance etc." will expire in the next fiscal year when the transitional measure period ends. Accordingly, GIAJ will consider measures that will further improve the scheme from a taxation perspective and actively engage with the relevant parties involved.
Work regarding earthquake disasters
As March 11, 2021 marks the tenth anniversary of the Great East Japan Earthquake, we will hold a seminar to convey the importance of disaster preparation. According to recent research, there is an estimate of a more than 70% chance that a large-scale earthquake, such as a Nankai Trough earthquake or a metropolitan epicentral earthquake, will occur within the next 30 years, and for this reason, preparation for such an earthquake is becoming increasingly important. In the seminar, we will review the efforts of GIAJ and the industry from when the Great East Japan Earthquake occurred up to the present and provide information so that citizens can protect their lives and property in the event of a large-scale earthquake disaster. Through this seminar and other communication activities, we will continue to inform citizens of the risk of earthquakes in an easy-to-understand manner and raise awareness of earthquake insurance as an economic safety precaution.
(2) Improving financial and general insurance literacy
Improving financial and general insurance literacy is crucial to increase resilience of citizens to deal with the risks that surround them. GIAJ will continue with initiatives to provide opportunities where anyone can easily learn about general insurance at any time and place.
Establishment of a financial literacy portal site and creation of new video tutorials
In order to provide information on general insurance, risks that surround us, and disaster prevention in an easy-to-understand manner, GIAJ has established a portal site on its website that organizes information by 6 different generations, such as "Junior High School Students" and "High School Students" etc.

GIAJ also provides supplementary tutorials for high school students titled "Towards a bright future: TRY!" and has newly created video tutorials in order to respond to temporary school closures and shortened class times caused by Covid-19. As video tutorials can be used for on-demand classes and for self-studying, we expect it will improve general insurance literacy.
Promoting activities of "Exploration for Disaster Prevention"
GIAJ has been conducting a safety education program for elementary school students called "Exploration for Disaster Prevention" for the past 17 years. Although this year's activity has been affected by Covid-19, by using tablets and promoting work in small groups, we have received about 1,000 submissions from all 47 prefectures. In addition, we have newly established a "Digital Challenge Award," and have chosen 22 notable submissions. In the past, there have been cases where students' suggestions and requests have contributed to the improvement of dangerous areas in their communities. We will continue this effort in order to raise awareness of disaster prevention among elementary school students and contribute to the development of safe and secure communities.
(3) Promoting efficiency through harmonization and standardization
GIAJ is promoting harmonization and standardization of various procedures regarding general insurance in order to improve efficiency and thereby achieve a higher level of convenience for customers.
Standardization of earthquake insurance premium deduction certificates (Digitization and standardization of notification postcards)
In an effort to standardize earthquake insurance premium deduction certificates, which are used for year-end adjustments and tax returns, we are currently developing a common system for the general insurance industry that will enable customers to access their certificates more promptly. We are also working to coordinate data with "Mynaportal", an online web service operated by the government of Japan where citizens can examine the record and information regarding their "My Number" (Social Security and Tax Number). We are planning to coordinate data with "Mynaportal" in 2021.
Information exchange for co-insurance among member companies
With regard to information exchange for co-insurance among member companies, GIAJ evaluated the effectiveness of information exchange for co-insurance utilizing blockchain technology in September. Going forward, we will examine its cost effectiveness, consider development of a new system, and aim to establish a new framework for information exchange among companies within the next fiscal year.
Review of written documents, seals, and face-to-face procedures
While participating in the "Study Group for Review of Written Documents, Seals, and Face-to-Face Procedures in the Financial Industry" hosted by the Financial Services Agency, GIAJ conducted a questionnaire survey to our member companies on our member companies' efforts. The results are shared to our member companies so that companies may use it as a reference in their review efforts.

We are also conducting 'General Insurance Solicitor Examination' online, in addition to the traditional on-site examination, for general insurance agents whose qualifications are due for renewal. Furthermore, with regards to agency registration documentation, we are currently considering going paperless. We will continue to respond actively and flexibly to the demands of the new normal after the outbreak of Covid-19.
(4) Work on other various issues
Measures against cyber risks
Due to the rapid spread of conducting business online, companies are facing a growing threat of cyber risks. In light of this situation, we have conducted a "Survey on Cyber Risk Awareness" to our member companies, and according to the survey, nearly 70% of small and medium-sized enterprises (SMEs) have already introduced telework and teleconferencing and approximately 40% of SMEs recognize that the outbreak of Covid-19 has increased the likelihood of cyber attacks. Nevertheless, less than 10% of SMEs answered that they have purchased cyber insurance, indicating that progress has not been made in the preventive measures against cyber risk. We will continue to promote preventive measures for cyber risks by providing information to SMEs through our featured website on cyber insurance etc.
Initiatives to increase the quality of agency sales practices
GIAJ certifies agents who have practical knowledge and operational skills as well as trust from customers as a "General Insurance Total Planner," which is the highest qualification of the general insurance solicitor certifications. This year, we certified 1,317 new General Insurance Total Planners, and since this program was launched in June 2014, we have certified a total of 15,181 General Insurance Total Planners across the country. We will continue our efforts to improve the quality of insurance solicitation.
Industry efforts to prevent fraudulent claims
Insurance fraud is a serious crime that undermines the foundation of the insurance system, where a pool of policyholders helps each other in the event of an accident. In order to eradicate insurance fraud, GIAJ is working with the Consumer Affairs Agency and the police to prevent fraudulent claims. As part of that effort, we have created a video that raises caution and have made it available on our website. It aims to deepen citizens' understanding of the prevention of fraudulent claims and encourage them to utilize the "Insurance Fraud Hotline" when necessary.
Appropriate responses to international standards
GIAJ is working with domestic and overseas parties involved in the implementation of international regulations suited to the actual practices of the Japanese general insurance market.

Japanese Financial Services Agency (JFSA) drafted a revision of the "Comprehensive Guidelines for Supervision of Insurance Companies," following the adoption of "the Common Framework for the Supervision of Internationally Active Insurance Groups (IAIGs) (ComFrame)" by the International Association of Insurance Supervisors (IAIS). In November, GIAJ submitted comments to JFSA's draft guidelines, in order to ensure effective supervision of member companies.
Activities to support general insurance development in emerging markets
With regard to the Insurance School (Non-Life) of Japan (ISJ), which is a technical assistance/training program covering East Asian regions, we held 'Overseas Seminar' and 'Advanced Course' online. For the Overseas Seminar, we shared practical knowledge of automobile insurance and business continuity management (BCM) etc. with participants in Vietnam and are working towards the further development of the Vietnamese general insurance market. For the Advanced Course, 22 participants deepened their understanding of products and IT strategies etc.
Donation of light weight fire engines and high-standard ambulances
GIAJ has been donating light weight fire engines and high-standard ambulances to municipalities around the nation since 1952. This year, we donated 20 vehicles, which brings the total number of vehicles donated to 5,149. These vehicles are used for various purposes including firefighting and emergency life-saving activities, as well as for fire drills to raise awareness of disaster prevention among residents.
3. Development of the Ninth Mid-Term Business Plan
At today's Board of Directors meeting, the outline of the Ninth Mid-Term Business Plan for fiscal years 2021-2023 was adopted. The outline sets forth the priority issues that will be addressed over the next 3 years, including "Development of a sustainable business environment", "Developing a disaster-resilient society", and "Improvement of general insurance literacy". We will organize specific tasks for each priority issue and develop this plan by March 2021. The general insurance industry will continue to contribute to a safe and secure society by assuming its social role as risk bearer which supports our customers' lives, and by soundly developing and increasing trust in our industry.
4. Concluding remarks
As I mentioned in my inauguration address as Chairman of GIAJ, we have focused our efforts on the 3 key initiatives of "Strengthening responses to natural disasters", "Improving financial and general insurance literacy", and "Promoting operational efficiency through harmonization and standardization" in addition to responding to Covid-19.

While these priority initiatives for this fiscal year will continue in the next Ninth Mid-Term Business Plan, we will also work on medium- and long-term issues to steadily move forward towards solving them.

Your continued support and cooperation would be greatly appreciated.

End