GIAJ Chairman's Statement (Translation/Executive summary)
Dec. 16, 2021
I would like to report and comment on our activities over the past six months since I assumed office as Chairman of GIAJ.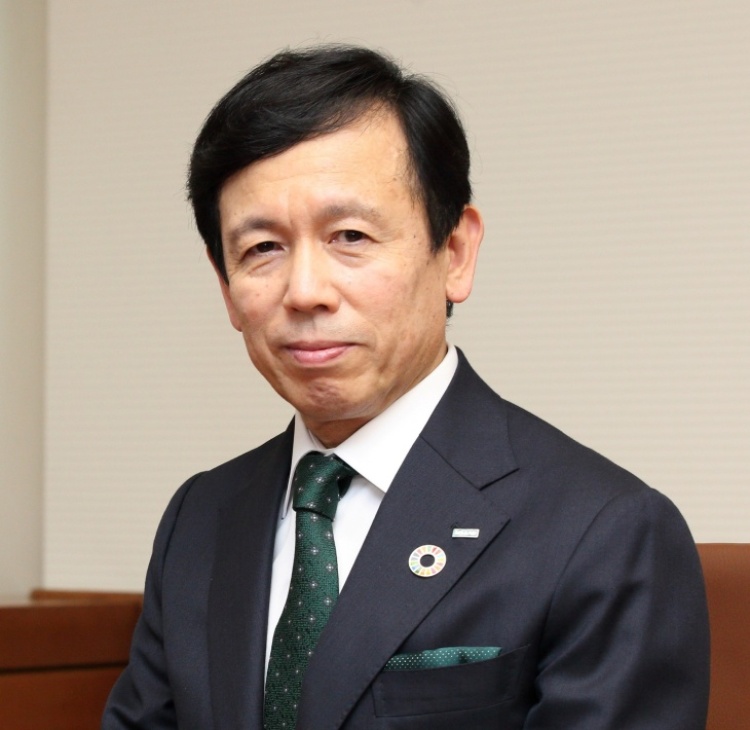 Specific measures on priority issues during this fiscal year
(1) Measures related to climate change
a. Strengthening our responses to natural disaster risks
1. Joint Industry Initiatives
As a result of the torrential rains in July and August, the total amount of insurance claims paid as of December 3 had reached ¥46.7 billion. We set up a Central Command in July to facilitate industry-wide efforts to help affected customers. We will continue to make appropriate and prompt claim payments to help affected customers get back on their feet as soon as possible.

In order to further improve our customer responses in the event of large-scale disasters, we will continue to review and enhance our joint industry approaches.
2. Disaster prevention and reduction
In September, we published PDF leaflets on flood disasters and earthquake disasters to attract more views to local hazard map websites. We also released a short YouTube video "Reminiscence of Maru" to raise awareness of hazard maps. Both initiatives have been well received.

We are also engaged in local activities to promote hazard maps. In October, we participated in Yamaguchi Prefecture's training for voluntary disaster prevention advisors (certified training for disaster prevention specialists). In December, GIAJ and the Ministry of Land, Infrastructure, Transport and Tourism held a workshop on promoting the use of hazard maps in Misato Town, Shimane Prefecture.

By widely disseminating customer-friendly tools, we will continue to work to raise awareness of disaster prevention and mitigation, and to strengthen mutual-help efforts at the local level.
3. The Fiscal 2022 tax revision request package
We have been widely advocating the need to expand our pre-event catastrophe loss reserves to ensure the availability and affordability of insurance that covers damages caused by natural disasters.

Thanks to the support and understanding of various stakeholders, the LDP's FY2022 Tax Reform Proposal, released on December 10 included an allowance to increase the reserve rate (as a percentage of net premiums) from the current flat rate of 6% to 10% for fire, windstorm, and flood coverage.

b. Measures towards ensuring proper claim payments
In order to help protect customers from problems related to malicious home repairers (who engage in fraudulent business practices following natural disasters), we prepared and distributed flyers and set up a special website. Since October, a QR code has been included on all insurance premium deduction certificates to provide customers with useful information on such home repair scams. In addition, instream advertisements were run on YouTube from November to December.

We are working on the development of a tool that can systematically and efficiently detect malicious repairer-related insurance claims. We are currently conducting trial tests (on a voluntary basis). Participating companies will also implement the best practices learned from the tests which will in turn lead to improved operations and efficiency.

c. Support for our member companies in responding to climate change
We are promoting industry-based initiatives in line with our Position Statement on Climate Change which was formulated in July.

To support awareness-raising activities when interacting with customers, we have released an electronic pamphlet titled " Climate change: What it's about and how we can act". We have also launched a special website where climate change-related information can be obtained. Going forward, with the cooperation of the Independent Insurance Agents of Japan, we will further disseminate and raise awareness through our insurance agents.

To encourage our member companies to strengthen and accelerate their efforts to tackle climate change, we are distributing a monthly newsletter among our membership and planning to hold a second climate change study session and a meeting to exchange opinions on the calculation of greenhouse gas emissions.

(2) Promotion of non-face-to-face, non-contact, paperless operations
We will continue to study ways and means of improving customer convenience with regard to, for example, the simplification of various CALI (Compulsory Automobile Liability Insurance) procedures, including the introduction of cashless premium payments.

Focusing on areas such as co-insurance (a single policy underwritten by multiple insurance companies), we will continue to review ways of making more transactions and inter-company correspondence paperless.

(3) Enhancing risk preparations
To commemorate this year's 'Digital Day' (October 10 and 11), we held a dialogue on cyber risk and insurance with Mr. Shingo Kaneko, Vice Chairman of the Tokyo Chamber of Commerce and Industry (TCCI) and Chairman of the Committee to Promote the Digital Shift of SMEs.
Based on the results of our SMEs survey, a special website for business customers was launched. We will continue to work on promoting insurance for businesses through this website in cooperation with the Independent Insurance Agents of Japan etc.

(4) Enhancing general insurance literacy among high school students
We have released five sequel versions of our award-winning video teaching material for high school students titled " Towards a bright future: TRY!".

In order to provide more useful information to high school teachers nationwide, we conducted a survey on the actual current state of education. More than 80% of respondents answered that education about risks in daily life and general insurance is necessary. Many respondents also indicated that it is important to enhance teaching materials and tools as well as textbooks.

(5) Others
a. Promoting the use of information on complaints and consultations received through ADR
With a view to supporting efforts by our member companies to make constant improvements to customer services, in November, we introduced a system that enables deeper analysis of data on consultations and complaints received by the 'General Insurance Counseling and ADR Center'.
b. Preparation for earthquake disasters
To mark the 10th anniversary of the Great East Japan Earthquake, " National Conference for Promoting Disaster Risk Reduction (Bosai Kokutai) 2021" was held in early November in Kamaishi City, Iwate Prefecture, an area that was severely damaged by the disaster. During the event, we hosted a panel discussion on "The Great East Japan Earthquake: Looking back over the past 10 years and forward to the next 10 ".

We will continue to make industry-wide efforts to promote earthquake insurance.

c. Approaches to support the quality of insurance solicitation
In cooperation with the Independent Insurance Agents of Japan, we have made some education for "General Insurance Total Planners" (qualified insurance solicitors who fulfill specific professional requirements) available online.

In addition, to prevent any inconvenience and/or potential career divisions caused by surname changes, our registration system has been modified to accommodate the continued use of maiden names in agent registration and solicitor notification. Our work on contributing to an even more inclusive society will continue.

d. Strengthening engagement with emerging markets
With a view to offering technical assistance and promoting exchanges among the general insurance markets of East Asia, we have been hosting the Insurance School (Non-Life) of Japan (ISJ) program since 1972. In November, an online version of the General Course attracted 23 participants from 13 regions.
END