GIAJ Chairman's Statement (Translation/Executive summary)
March 17, 2022
I would like to report and comment on our major activities over the past nine months since I assumed office as Chairman of the GIAJ.

Regarding the earthquake that hit Miyagi and Fukushima last night, I extend my sincerest condolences to all that were affected. We will inform you of our industry-wide response shortly.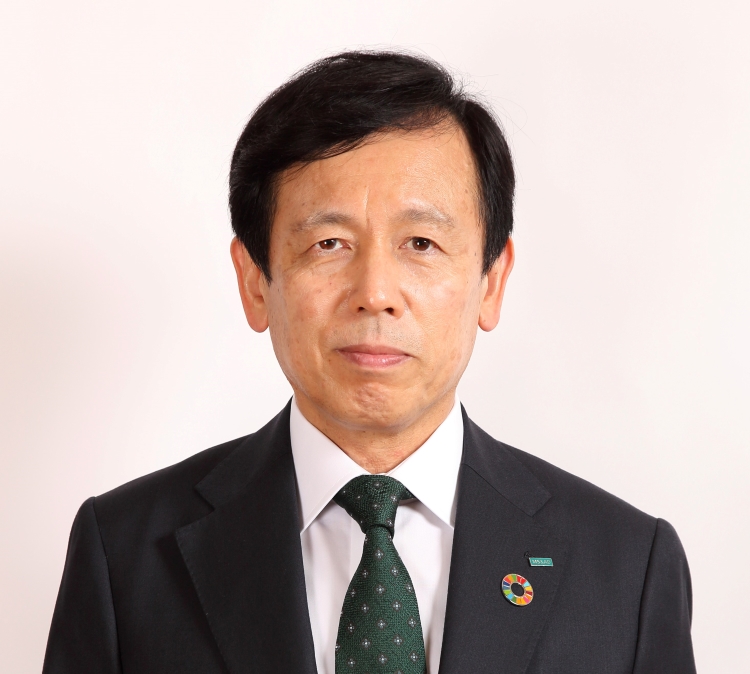 Specific measures on priority issues during this fiscal year
(1) Measures related to climate change
a. Strengthening our responses to natural disaster risks
1. Prompt claim payments in cooperation with financial institutions
Regarding claim payments for housings with mortgages (*), we are in discussions with various financial institutions, etc. to set up a framework under which lenders would collectively pre-approve claims that meet certain conditions to be paid directly to the homeowner. This would help ease administrative paperwork for all parties after large disasters and most importantly, help get homeowners back on their feet more swiftly.
* Note: For insurance contracts covering housings with mortgages, the lender has the first right to claim any insurance payouts.
2. "Explore your town - Disaster prevention hotspots" map-making competition for elementary school students
Last December, the winners of the 18th "Explore your town - Disaster prevention hotspots" map-making competition were announced from among 971 entries. This time, the program attracted 5,697 participants from 371 organizations, such as schools, children associations, local children's halls, and "youth fire brigades" (groups that study about fire prevention, disaster preparedness, and first aid).

This competition is a practical safety education program where children study key locations and facilities from disaster prevention, crime prevention, and traffic safety perspectives and allows them to create their own hand-made 'safety maps'. It promotes a robust 'mutual help and cooperation' mindset across generations and strengthens efforts toward disaster prevention and reduction. We will continue to improve the program to attract as many participants as possible.
3. Promoting the use of hazard maps
We provided about 5,000 high schools across Japan with supplementary easy-to-understand materials on how to read hazard maps and how to put them to use. We hope teachers can utilize these materials in their "Comprehensive Geography" classes.

In January, we published an article and released a video on a workshop that aimed at promoting the use of hazard maps. It was held in cooperation with the Ministry of Land, Infrastructure, Transport and Tourism in December 2021 in Misato Town, Shimane Prefecture.

Collaborating with the Independent Insurance Agents of Japan, several GIAJ regional offices held webinars to promote agents' understanding of hazard maps.
b. Measures towards ensuring proper claim payments
In order to help protect customers from problems related to malicious home repairers (who engage in fraudulent business practices following natural disasters, such as urging unnecessary repairs and misleading homeowners into believing that repairs to older parts of their homes will be covered by insurance), we are working together with our member companies to develop, promote and widen the use of tools which include functions that read images of claims-related documents, convert them to data using AI technology, and detect fraudulent claims from that data. Companies will be able to choose which functions they wish to use, the process of which will be backed by and supported by the GIAJ. Participating companies will roll out their tools respectively as they become ready.

In addition, we revised our "Guidelines related to the description of solicitation materials, etc.", to ensure further attention at the time of contract conclusion. It encourages insurance companies to call for attention through their brochures and explanatory materials on important matters. These measures will also be strengthened by enhancing the contents of solicitor training.
c. Meetings and sessions on climate change
On December 24th, 2021, we held a meeting for our member companies to better understand the calculation of greenhouse gas emissions.

On February 4th, we held the second climate change study session for our member companies, in which Satoshi Ikeda, Chief Sustainable Finance Officer of the Financial Services Agency, gave a lecture. Around 900 people participated in the event, mostly online. Mr. Ikeda indicated that the general insurance industry should contribute to a sustainable society by promoting responses to climate change with customers while constantly strengthening preparedness for natural disasters.

In February, in line with our Position Statement on Climate Change (formulated in July 2021), we updated our action plan for environmental preservation, commitment to a low carbon society, and voluntary action plan for a recycling-based society.
(2) Promotion of non-face-to-face, non-contact, paperless operations
a. Going paperless in insurer administrative procedures
In February, we launched an industry-wide system for electronic forms needed to process co-insurance (*) contracts. Using this system, we will reduce our paper consumption by around a million sheets per year, ease the paperwork amongst our member companies, and promote remote working.

We will also make key parts of our personal auto insurance customer information exchange processes electronic.
* a single policy underwritten by multiple insurance companies
b. Examining ways to improve efficiency of CALI (Compulsory Automobile Liability Insurance)
To enhance customer convenience, we hope to make CALI-related procedures (including contract processing) paperless and introduce cashless premium payments as soon as possible. We are currently finalizing our plans that entails starting work on setting up an industry-wide system to centrally manage contract information held by individual insurance companies.
(3) Enhancing risk preparations
From the end of 2021 to February this year, through digital media targeting Small and Medium-sized Enterprises (SMEs), we distributed an expert dialogue on insurance products that are useful for SMEs.

In cooperation with regional Bureaus of Economy, Trade and Industry, we will promote understanding of insurance for SMEs at local seminars on BCP and on other occasions.
(4) Improving general insurance literacy among high school students
In April this year, the statutory age that a person reaches adulthood will be lowered to 18 (currently 20), and a new high school curriculum called "Public matters" will be introduced where students also learn about private insurance. In light of this, we distributed active learning video teaching materials titled "Towards a bright future: TRY!" to around 5,000 high schools across Japan.

We also provided the second issue of the "Sonpo Journal" magazine to high school teachers (home economics and civics) as well as local boards of education.
(5) Others
a. Promoting the use of information on complaints and consultations received through ADR
In March, we provided our member companies with analysis of data on consultations and complaints that were received by our "General Insurance Counseling and ADR Center".
b. Measures to support the quality of insurance solicitation
We launched a dedicated, e-learning website for insurance solicitors.

In January, our system was modified to accommodate the continued use of maiden names, for example, when taking solicitor examinations and issuing qualification certificates.
c. Initiatives financed by investment returns on CALI premium
Since 1971, we have been utilizing investment returns on CALI premium for various activities such as automobile accident prevention and assistance to victims of traffic accidents. For fiscal 2022, we have decided to use around 1,800 million yen to support 40 projects.
d. Results of an automobile theft survey
We published the results of our 23rd fact-finding survey on automobile thefts. Whilst we remain proud that the total number of cases has constantly been decreasing, we note that some areas continue to suffer regular vehicle thefts. Considering whether there are local circumstances behind the trend, we will examine countermeasures.
e. Strengthening engagement with emerging markets
As part of our efforts to support the sound development of general insurance markets in emerging economies, we offer technical assistance based on the country/region's specific needs. Recent seminars that attracted both government and industry professionals in Vietnam and Thailand introduced measures to prevent fraudulent claims, such as the information sharing system in Japan.
END