The GIAJ Chairman's Statement (Translation)
June 10, 2021
I would like to report on the progress made on our key initiatives during the past year and offer my views.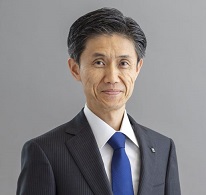 1. Introductory remarks
I wish to express my deepest condolences to the victims of Covid-19 and extend my sincerest sympathies to the victims' families, as well as all who have been affected. On behalf of the general insurance industry of Japan, I also wish to honor and extend my sincere gratitude to the healthcare workers and essential workers of various fields supporting society.

In response to Covid-19, Japan has made full-scale efforts such as measures to prevent the spread of the disease, ensuring continuity of the healthcare system, and ramping up vaccinations. However, the number of patients with severe symptoms is at a high level due to the spread of variants and other factors, putting great pressure on the healthcare system. It is important to continue efforts to achieve a balance between preventing the increase of infections and restoring economic activities, while keeping the lives and health of citizens as the highest priority.
2. Completion of the Eighth Mid-Term Business Plan and start of the Ninth Mid-Term Business Plan
Over the past year, the unprecedented crisis of Covid-19 led to fundamental changes to the lifestyles, values, and needs of citizens, requiring an extensive review of the system and structure of society. Within the general insurance industry, inherent problems have become apparent amid the pandemic, and initiatives to solve such problems have accelerated.

Fiscal 2020 was the final year of our Eighth Mid-Term Business Plan, as well as a milestone year for the development of the Ninth Mid-Term Business Plan starting in fiscal 2021.

Under the Eighth Mid-Term Business Plan, we pursued initiatives based on the following four pillars: "Prompt and precise responses to societal changes", "Promotion of customer-oriented business operations", "Establishment of a more robust and stable general insurance system", and "Increased involvement of GIAJ in international insurance markets". Taking into account what we have achieved under the plan and the impact of Covid-19 on society as a whole, we formulated the Ninth Mid-Term Business Plan. In this plan, we have set "Development of a sustainable business environment", "Realization of a disaster-resilient society", and "Improvement of general insurance literacy" as our priority issues, and have begun taking measures to achieve the goals from April 2021.

For the general insurance industry to continue fulfilling its role as part of the country's social infrastructure of tackling social problems while providing safety and security to the public, we are resolved to bring together the wisdom of our member companies to address a wide range of issues, from urgent ones such as responses to increasingly severe and frequent natural disasters and COVID-19, to medium and long-term ones such as the achievement of SDGs, measures related to climate change, harmonization and standardization of business operations, and improvement of general insurance literacy.

In particular, as climate change is a global and urgent challenge that requires bold initiatives from a medium to long-term perspective, we will further focus our efforts on this in fiscal 2021.
3. Response to Covid-19
GIAJ set out its "Basic Policy for Covid-19 Control" and established a framework to address the disease. Our member companies have been taking measures to prevent the spread of infections within their business activities, such as promoting remote working and non-face-to-face sales. They have also implemented special measures for customers affected by Covid-19, such as allowing a moratorium for renewal of insurance contracts and premium payment due dates. Furthermore, to cater for the growing interest and demand among customers for insurance products related to Covid-19, they are working intently to develop such products and provide information on new types of coverage.

In response to large-scale natural disasters such as the torrential rains in July 2020 and the earthquake off the coast of Fukushima and Miyagi Prefectures in 2021, we endeavored to make prompt and appropriate payments while taking utmost precautions to prevent the spread of infections to customers in the affected regions. While anticipating the emergence of other infectious diseases in the future, we will apply the lessons learned from Covid-19 in our response to large-scale natural disasters going forward.

Through our work to solve various social problems amid the uncertainty caused by Covid-19, we have been reminded of the mission of general insurance and the expectations for our industry. We are determined to fulfill our role while taking thorough preventive measures against the spread of infections.
4. Key initiatives in fiscal 2020
In fiscal 2020, we focused our efforts on the three key initiatives of "Strengthening responses to natural disasters", "Improving financial and general insurance literacy", and "Promoting operational efficiency through harmonization and standardization".
(1) Strengthening responses to natural disasters
We aim to build a society more resilient to natural disasters by ensuring prompt and appropriate payments in any situation. Through our "Natural Disaster Response Review Project Team", GIAJ and our member companies are carrying out detailed studies, focusing on industry-wide responses to wind and flood disasters, as well as prevention of fraudulent claims. In addition, as this year marks the tenth anniversary of the Great East Japan Earthquake, we have strengthened our efforts to improve market penetration of Earthquake Insurance.
a. Initiatives by the Natural Disaster Response Review Project Team
As for responses to wind and flood disasters, we have developed an industry-wide system which utilizes satellite technology to quickly grasp the extent and depth of inundation of buildings. GIAJ will continue to examine and discuss with the relevant authorities to further develop and expand the system, so that we can be better prepared for severe flood disasters.

Furthermore, from the perspective of disaster prevention and mitigation, we invited a lecturer from the Ministry of Land, Infrastructure, Transport and Tourism to hold a session for our member companies titled "Flood disaster response accounting for climate change," and reaffirmed the importance of "river basin management" and of providing information through hazard maps, etc.

In addition, in cooperation with Yahoo Japan Corporation, we have established a system which provides disaster-related information to customers in affected areas with push-notifications on smartphone applications and other means in the event of large-scale natural disasters. We will continue to contribute to disaster prevention and mitigation by enhancing our communication capabilities through the use of digital technology.

As part of our work to prevent fraudulent claims, we have strengthened our efforts to provide warnings to prevent scams particularly in times of large-scale natural disasters. Furthermore, we developed industry-wide tools to support damage surveys and are considering digitalization and utilization of AI for these tools. In order to increase the effectiveness of such initiatives, we are strengthening cooperation with the relevant authorities as well as the Independent Insurance Agents of Japan and the Loss Adjusting Association of Japan. We will continue our efforts to maintain a sound insurance system.
b. Work regarding Earthquake Insurance -10 years since the Great East Japan Earthquake-
In March 2021, on the tenth anniversary of the Great East Japan Earthquake, GIAJ held a webinar to widely communicate the importance of being prepared for major earthquakes to protect lives and property. One of our important missions is to pass on the experiences and lessons learned from the Great East Japan Earthquake, which was an unprecedented disaster, and not let memories of the disaster fade away. We will continue to promote Earthquake Insurance so that we may fulfill our mission and serve as many customers as possible in the event of large-scale earthquakes.

During the earthquake that occurred off the coast of Fukushima and Miyagi Prefectures in 2021 in the midst of the Corona crisis, our member companies recognized the effectiveness of the "self-declaration method" instead of on-site surveys, and have been actively utilizing it to minimize face-to-face activities. We had initially developed this method in preparation for large-scale earthquakes, but will accelerate our efforts to digitalize the processes to further improve the agility of damage investigations and payments during the Corona crisis.

As a result of various awareness-raising activities, the number of in-force Earthquake Insurance policies increased by 3.1%, reaching about 20.36 million as of the end of March 2021.

The challenges we must focus on and solve to further strengthen our response to the increasing frequency and severity of natural disasters is becoming clearer. GIAJ will work more closely with the relevant authorities, organizations, and local governments to tackle the problems at hand to contribute to a safe and secure society resilient to natural disasters.
(2) Improving financial and general insurance literacy
The increasing frequency and severity of natural disasters as well as Covid-19 have heightened social uncertainty, which in turn has led to greater expectations for general insurance. Therefore, we have enhanced our efforts to improve "general insurance literacy," as it has become increasingly important to enable people to properly cope with various risks in their daily lives.

The needs of our literacy-related activities are changing due to the advancement of digital transformation and the impact of Covid-19. In order to respond to shifts in the business environment and the needs of society, during fiscal 2020 we have moved away from operations based on face-to-face gatherings and distribution of handouts, and shifted to remote, online, paperless-based operations. Examples include utilizing the "Exploration for Disaster Prevention" app, promoting the use of hazard maps, and creating a financial literacy portal site called "Sonpo Learning Navi".

In addition, the educational teaching guidance for high schools (to be amended in April 2022) will stipulate a new curriculum entitled "The Public", in which students will learn about private insurance. Recognizing the necessity for teachers to better understand the role and importance of general insurance, we launched a magazine called the "Sonpo Journal" in February 2021.

Significant overhaul of our literacy-related activities and raising the level of general insurance literacy of each citizen cannot be achieved overnight. To step up our work, GIAJ has set this theme as a focus issue in the Ninth Mid-Term Business Plan. Over three years, we will build a foundation to step up our work and revamp our awareness-raising and education methods to elevate this into a truly unique GIAJ activity.
(3) Promoting operational harmonization and standardization
In this era of accelerating technological advances, we must incorporate new technologies and promote harmonization and standardization of the business processes of our member companies in order to improve customer experience. GIAJ has been actively working on this issue, as Covid-19 led Japanese society to review its existing business practices premised on paper and face-to-face communication, as well as the use of personal seals.

In July 2020, GIAJ set up a special working group made up of our member company representatives to solve industry issues related to operational processes. Through its activities, we are able to identify challenges and find solutions our member companies face in their various operations concluding contracts, responding to accidents and making insurance payments. The working group has started producing results. During fiscal 2021, we plan to launch a standardized system for general insurance premium deduction certificates and paperless procedures for exchanging co-insurance information among our member companies.

As customer needs are expected to diversify further even in the post-Covid world, we will identify and steadily establish business processes that are suitable for non-face-to-face, non-contact, and paperless operations while maintaining good customer experience and high quality services.
5. Concluding remarks
Based on our industry-wide commitment to help customers and society to solve problems through general insurance, GIAJ will continue to make sustained efforts to achieve our goal of "contributing to the creation of a safe and secure society through sound development and increased confidence in the general insurance industry."

I would like to express my sincere gratitude for the warm support and cooperation received this past year during my term as Chairman. Your continued understanding and cooperation for the general insurance industry as well as GIAJ would be greatly appreciated.

End