GIAJ Chairman's Statement (Translation/Executive summary)
June 30, 2022
Mr. Giichi Shirakawa was appointed Chairman of the General Insurance Association of Japan (GIAJ) on June 30, 2022. His main agenda and key policies for the coming year are as follows.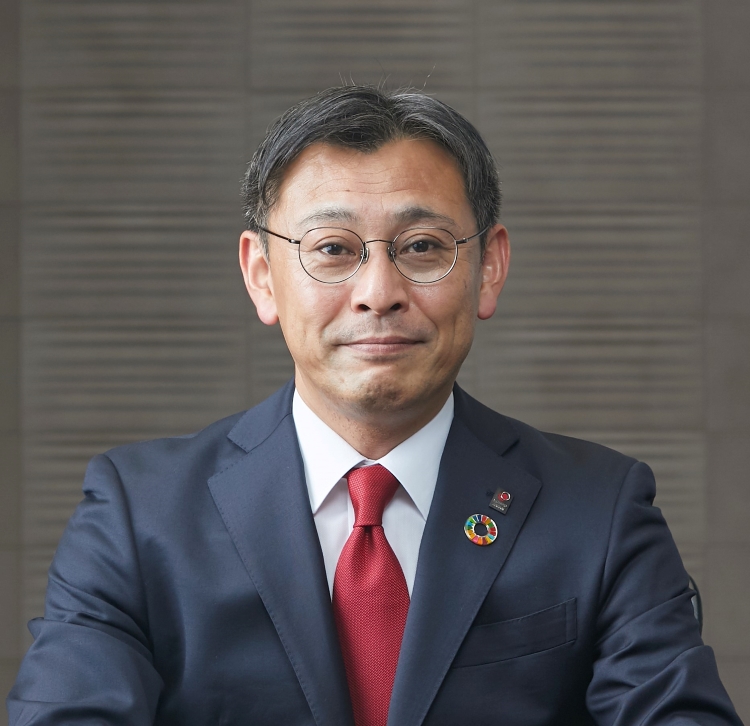 1. Environmental changes surrounding the general insurance industry
The effects of climate change, such as the increasing intensity and frequency of natural disasters, are becoming more apparent. As such, the roles of the general insurance industry are becoming even more important, not only in terms of preparing for emergencies, but also in preventing and mitigating disasters. The industry is also taking countermeasures against unscrupulous home repairers who have become more prominent in recent years. They try to gain profit unfairly by taking advantage of natural disasters.
While the progress of digital transformation (DX) is bringing positive effects such as improved customer experience and business efficiency, the necessity of taking countermeasures against cyber-attacks, etc. is increasing.
In such an uncertain environment where natural disasters and security concerns are on the rise, it is important for the general insurance industry not only to help enhance the resilience of society, but also, as a new source of business growth, to make value provision to society through addressing its issues.
2. The GIAJ's policy for moving forward with its initiatives
During this, the second year of our 9th Mid-Term Basic Plan, we will proceed with our initiatives by focusing on "Climate change and natural disasters" and "Digital transformation (DX)" in line with the following priority issues:
(1) Development of a sustainable business environment,
(2) Realization of a disaster-resistant society, and
(3) Improvement in general insurance literacy.
By improving upon and accelerating our current efforts, we aim to help enhance the resilience of society and contribute to all our stakeholders.
In addition, we will continue our efforts towards improving the financial and general insurance literacy of young people among others.
3. Specific measures for realizing the above initiatives
(1) Climate change and natural disasters
We will proceed with the following measures to promote prompt and appropriate claim payments to customers affected by natural disasters, and also to continue contributing to the building of a society resilient to natural disasters.
a. Measures for disaster prevention and reduction
We will promote:
- efforts towards disaster prevention and reduction tailored to the risk characteristics of each respective region (e.g., hazard map dissemination and awareness activities in cooperation with the Independent Insurance Agents of Japan, local governments, etc.);
- education for the next generation (e.g., hazard map learning support for high school students); and
- activities to promote awareness of existing projects such as "Sonpo (General Insurance) Disaster Prevention Web" and "Explore your town – Disaster prevention hotspots".
b. Countermeasures against unscrupulous home repairers who try to gain profit unfairly by taking advantage of natural disasters
We will promote:
- collaboration with related ministries and local governments;
- awareness-raising through alert flyers and the GIAJ website;
- the detection of claims involving unscrupulous home repairers by using AI tools; and
- information sharing on troubles and best practices within the general insurance industry.
c. Responses to issues related to climate change and sustainability
We will:
- hold study sessions for member companies covering ESG-related topics of growing importance, etc.; and
- participate in domestic and international discussions regarding sustainability related standard setting, such as International Sustainability Standards Board (ISSB) discussions on the proposed disclosure requirements for sustainability-related financial information, by submitting the GIAJ's comments for public consultation.
(2) Digital transformation (DX)
We will further promote our services and initiatives towards improving customer convenience and creating new value, as well as addressing the challenges posed by the digital society, such as the growing number of cyber-attacks and other emerging risks through the following measures:
a. Acceleration of the harmonization and standardization of business procedures
We will promote:
- non-face-to-face contract modification/cancellation procedures and the cashless receipt of premium payments for Compulsory Automobile Liability Insurance (CALI);
- omission of the procedures for confirming financial institutions' non-exercise of pledges on fire insurance for mortgaged housing (by conclusion of comprehensive approval letters with financial institutions)
- introduction of claim assessment standards for exclusive areas of condominiums in earthquake insurance;
- paperless information exchange between insurance companies regarding both compulsory and voluntary automobile insurance claim payments; and
- paperless inquiries between insurance companies regarding the grade applied to customers' previous automobile insurance contracts, etc.

b. Countermeasures against emerging risks
We will:
- improve the general insurance industry's risk responsiveness by conducting surveys on the level of awareness SMEs have for, and the countermeasures they have in force against, the risks that surround them, such as cyber-attacks;
- promote the dissemination of risk preparedness measures through the expansion of information sharing content and public relations activities utilizing the media, etc.; and
- conduct educational activities for SMEs, centered on efforts in cooperation with the Independent Insurance Agents of Japan and other related organizations.
c. Digitalization of education for general insurance solicitors
We will improve the quality of insurance agent solicitation by promoting education for them that utilizes digital technology, such as the revision of textbooks for qualification examinations (from paper to digital media), and also study the validity of introducing IBT (examinations via the Internet).
(3) Other major ongoing efforts
We will:
- improve general insurance literacy among young people (through videos, seminars jointly organized by the life and general insurance industries, etc.);
- take appropriate actions to improve the environment surrounding the insurance business (e.g., making requests and proposals about various standards that affect member companies' business, attending meetings and providing comments to inquiries and public consultations by the International Association of Insurance Supervisors (IAIS), the Organization for Economic Cooperation and Development (OECD), and other organizations, and cooperating with and supporting the Financial Services Agency, which will host the IAIS Annual General Meeting (and other related meetings) in Tokyo in 2023;
- strengthen our support for emerging markets (e.g., holding events to commemorate the ISJ's 50th anniversary); and
- improve the quality of insurance solicitation.
END